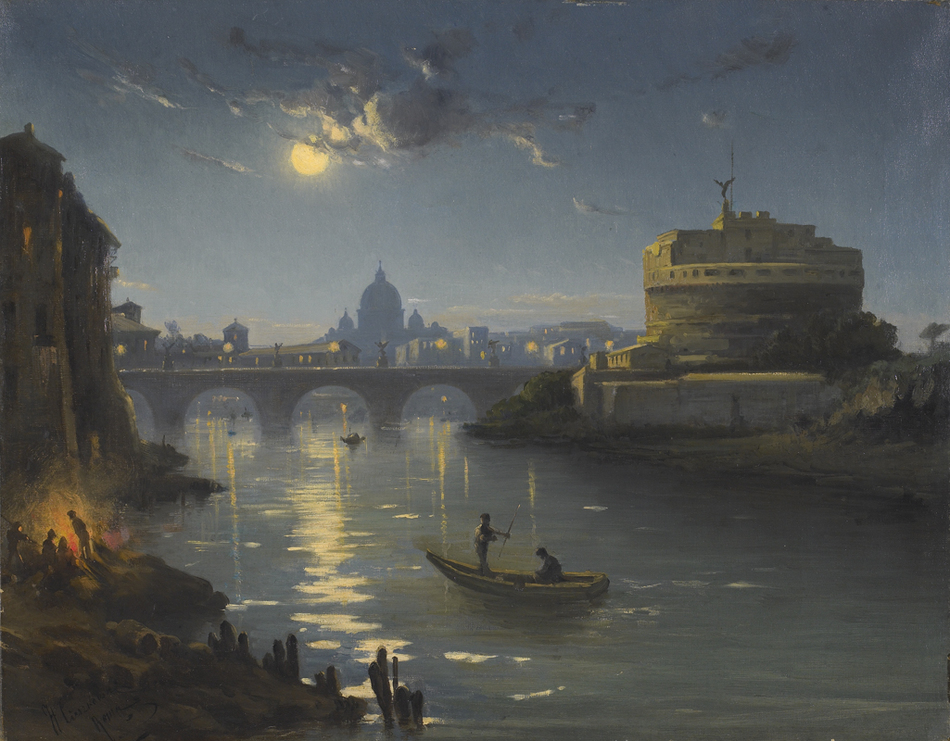 Henryk Cieszkowski
Polish, 1835 - 1895
View of the Castel Sant'Angelo with Saint Peter's in the distance
Oil on canvas
19 1/4 x 24 1/2 inches (48.9 x 62.23 centimeters)
Framed: 28 1/4 x 33 3/4 inches (71.76 x 85.73 centimeters)
Signed and inscribed lower left: H. Cieszkowski Roma
Provenance:
Marshall Field & Co, Chicago
Collection of Mark Armour, Indianapolis
The current composition depicts the Castel Sant'Angelo and the Tiber. The silhouette of Saint Peter's is visible in the distance, backlit by a golden moon. This quintessentially Roman view was painted by numerous artists, including Corot during the 1830s. Cieszkowski gives the view a more Romantic tint, depicting it at night, with moonlight reflecting on the Tiber and the warm glow of a campfire on the riverbank at left.
Henryk Cieszkowski (Polish, 1835 - 1895)
Henryk Cieszkowski was a painter of the famous monuments and city views of Rome. He studied painting in Warsaw, moving to Rome around 1860. Although Cieszkowski spent the remainder of his days living in and painting Rome, he regularly organized exhibitions of his work in his native Poland.