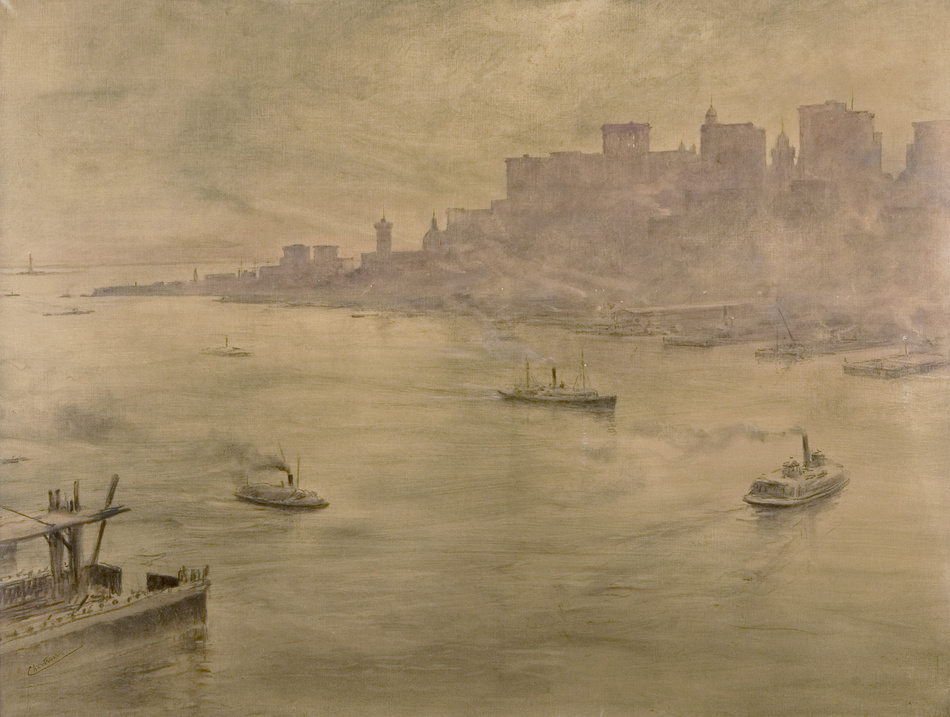 Théobald Chartran
French, 1849 - 1907
View of South Street Seaport from the Brooklyn Bridge
Circa 1895 - 1904
Oil on canvas
35 3/4 x 47 inches (90.81 x 119.38 centimeters)
Framed: 42 x 53 inches (106.68 x 134.62 centimeters)
Signed lower left: Chartran
SOLD
Provenance:
Private Collection, France
The present work was most likely completed on one of Chartran's trips to America between 1895 and 1907. We know that Chartran made trips to New York during this period: a portrait of Andrew Carnegie is inscribed NY 1895 and a portrait of Mrs. Thomas Mellon is inscribed NY 1896 (Carnegie Museum of Art), a work entitled La Promenade-a portrait of Miss Eliza Conkling is signed Chartran N.Y. '99 (private collection), a portrait of Matthew Chaloner Durfee Borden is inscribed NY 1901 (Yale University Art Gallery) and a pair of portraits, of Harriet White Bradbury and of George Robert White, are signed Chartran N.Y. 1904 (Boston Museum of Fine Arts).
The view is of Lower Manhattan and the South Street Seaport from the Brooklyn Bridge. Identifiable amongst the mass of buildings that make up the hazy skyline are the Syndicate Building, Produce Exchange, Cotton Exchange, National City Bank Building, Pulitzer World Building and Manhattan Life Insurance Buildings. Primarily a portraitist, Chartran moved away from the bold brushwork of his portrait style, adopting a thin, ébauche-like wash for his portrayal of the urban landscape. The thin, transparent layers of paint give the work a drawing-like feel, highlighted by touches of white impasto that give the effect of city lights twinkling through smog. The work is reminiscent of the painting style that Jean François Raffaëlli employed for his numerous urban views along the Seine. It is not surprising that Chartran turned to the work of Raffaëlli, the foremost painter of the French urban landscape, for guidance in this portrayal of the New York's industrial seaport.
Théobald Chartran (French, 1849 - 1907)
An artist with an international following, Théobald Chartran was among the most popular portraitists of the late nineteenth century. A student of Cabanel, Chartran began a successful Salon career in 1872. In 1877 he won the Prix de Rome and a third class medal at the Salon, as well as a second class medal at the Salon of 1881 and a gold medal at the Exposition Universelle of 1889. He was a Chevalier of the Legion of Honor.
Chartran?s clientele reached well beyond France. Beginning in 1881, he exhibited at the Royal Academy and at the Grafton Gallery in London, and from 1893 until the end of his life he made annual trips to the United States to complete portrait commissions, painting in Washington DC, Pittsburgh, Canton and New York. His clientele included such prominent Americans as Henry Clay Frick and Andrew Carnegie.
Selected Museum Collections:
Angers, Musée des Beaux-Arts; Besançon; Boston, Museum of Fine Arts; Boston, Harvard University Art Museums; Caen; Carcassonne; Champigny, église de Champigny; Compiègne, Musée de la voiture; Lille, Musee des Beaux-Arts; London, National Portrait Gallery; Lyon, Musée des Beaux-Arts; Paris, École Nationale Supérieure des Beaux-Arts; Paris, Musée d'Orsay; Paris, Musée du Petit-Palais; Paris, Université de la Sorbonne; Pittsburgh, PA, Carnegie Museum of Art; Reims; Fine Arts Museums of San Francisco; Versailles, Musée national du château et des Trianons; Washington D.C., The White House Collection;