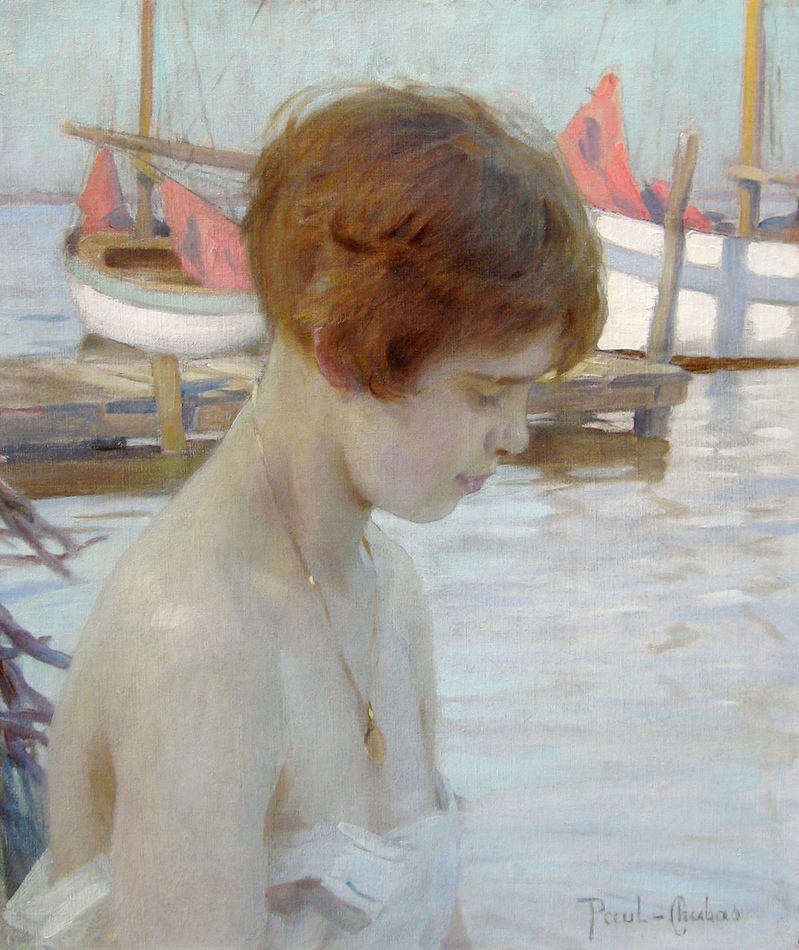 Paul Emile Chabas
French, 1869 - 1937
Young girl at the harbor
oil on canvas
21 3/4 x 18 1/4 inches (55.25 x 46.36 centimeters)
Signed lower right: Paul_Chabas
Provenance:
Private Collection, Madrid
Paul Chabas was a successful portraitist and painter of young girls, often swimming or bathing in the open water. The current work, Young girl at the harbor, is an excellent example of the latter subject. Chabas was interested in the effects of bouncing light and color caused by the water's surface, and the resulting suppression of shadow. In the current work, the young girl appears to stand at the water's edge with her back to the sun. Although her face is in shadow, it is not dark; the glassy water reflects blue and silver against her, giving the work an overall cool, tranquil light.
Paul Emile Chabas (French, 1869 - 1937)
Paul Chabas was a student of William Bouguereau and Tony Robert-Fleury. Chabas exhibited at the Paris Salon beginning in 1890, and was awarded a third-class medal at the Salon on 1895 and a second-class medal at the Salon of 1896. He exhibited at the Exposition Universelle of 1900 where he was awarded a gold medal, followed by a medal of honor in 1912 and election to the Institut in 1921.
Selected Museum Collections:
Metropolitan Museum of Art, New York; Musée d'Orsay and Musée du Louvre, département des Arts Graphiques, Paris; Musée Malraux, Le Havre; Musée Ingres, Montauban; Musée des Beaux-Arts de Nantes; Musée national des châteaux de Versailles et de Trianon, Versailles;