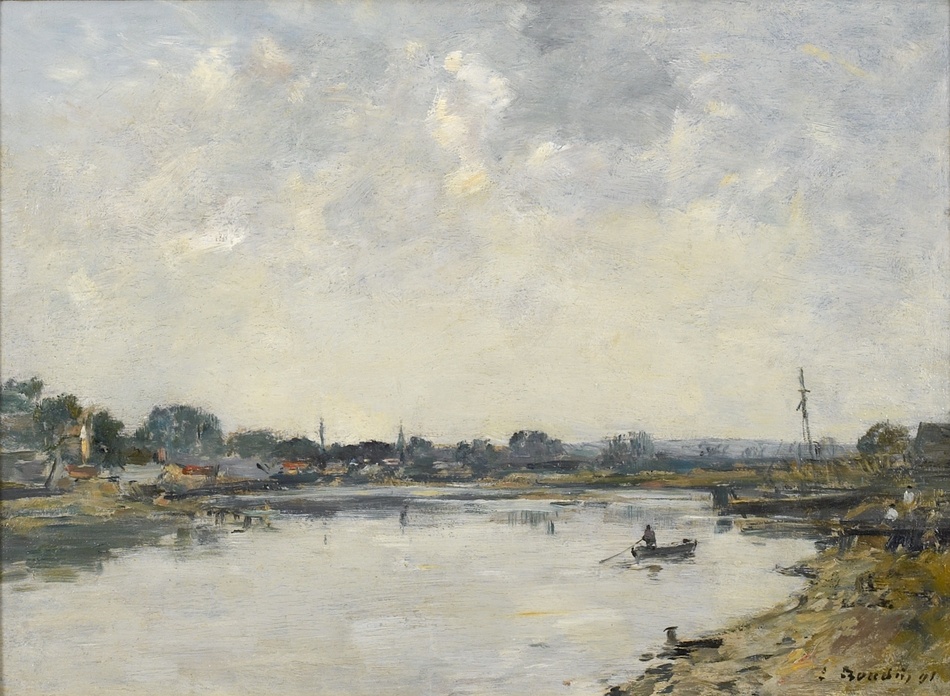 Eugène Boudin
French, 1824 - 1898
La Somme à Saint-Valéry-sur-Somme
1891
Oil on panel
10 1/4 x 13 7/8 inches (26.04 x 35.24 centimeters)
Framed: 16 3/4 x 20 1/2 inches (42.55 x 52.07 centimeters)
signed and dated lower right: E. Boudin 91
SOLD
Provenance:
Durand Ruel, Paris
Watson Art Galleries, Montreal (no. 2826, label embossed 1897)
Schoneman Galleries, NY, 1954
Hirschl & Adler Galleries, NY
World House Galleries, NY
Private Collection, Cleveland OH
Literature:
Robert Schmidt, Eugène Boudin, catalogue raisonné de l'oeuvre peint, vol. III (Galerie Schmidt, Paris, 1973): no. 2801.
Eugène Boudin (French, 1824 - 1898)
Eugène Boudin was born in Normandy in 1824 and died there in 1898. His father was a sailor on one of the first steamships that ran between Le Havre and Honfleur, and Boudin worked as cabin boy on his father's ship, observing from an early age the ever-changing sea and sky that would become his primary focus as a painter. In 1836, at age twelve, he began to work in a stationery and frame shop. The owner gave him a box of paints, but little else is known about Boudin's early interest in art. At twenty he co-owned a business, framing and selling the works of visiting artists. In 1847 he sold his half of the shop to pay his way out of military service. Sponsored by his former artist-clients, Boudin went to Paris to study and copy in the Louvre. In 1851 the town of Le Havre awarded him a three-year scholarship.
Boudin quickly established the pattern he would follow throughout his career: in summer he traveled to paint outdoor sketches that he would complete in his Paris studio over the winter. He stayed along the Channel coast, mostly in Normandy and Brittany. Though he painted inland landscapes, peasant scenes, and still lifes, it was the seaside, especially its river estuaries and harbors, that most attracted Boudin's eye. In 1862 he started painting the droves of fashionable tourists who vacationed at Normandy beach resorts. These pictures?his best known?were highly marketable and number in the thousands.
In the 1860s Boudin did not yet consider his outdoor studies fully finished; he felt they should be "poussé" (elaborated), as he said, to completion using notes, sketches, and memory. He meticulously recorded details about atmosphere, weather, and times of day (and inscribed this information on his sketches). He wrote to a student: "An impression is gained in an instant, but it then has to be condensed following the rules of art or rather your own feeling and that is the most difficult thing?to finish a painting without spoiling anything." At the same time, Boudin also claimed "everything that is painted directly and on the spot has always a strength, a power, a vivacity of touch which one cannot recover in the studio." Eventually Boudin would paint almost entirely en plein air, saying that one brushstroke placed outdoors was of more value than two days spent in the studio. His work foreshadowed impressionist concerns with atmosphere and the changing effects of weather and light. Corot called him "the king of the skies." The direct freshness of his works was a particular influence for Monet, who as a teenager worked alongside Boudin. As the modest Boudin himself wrote: "I may well have had some small measure of influence on the movement that led painters to study actual daylight and express the changing aspects of the sky with the utmost sincerity."