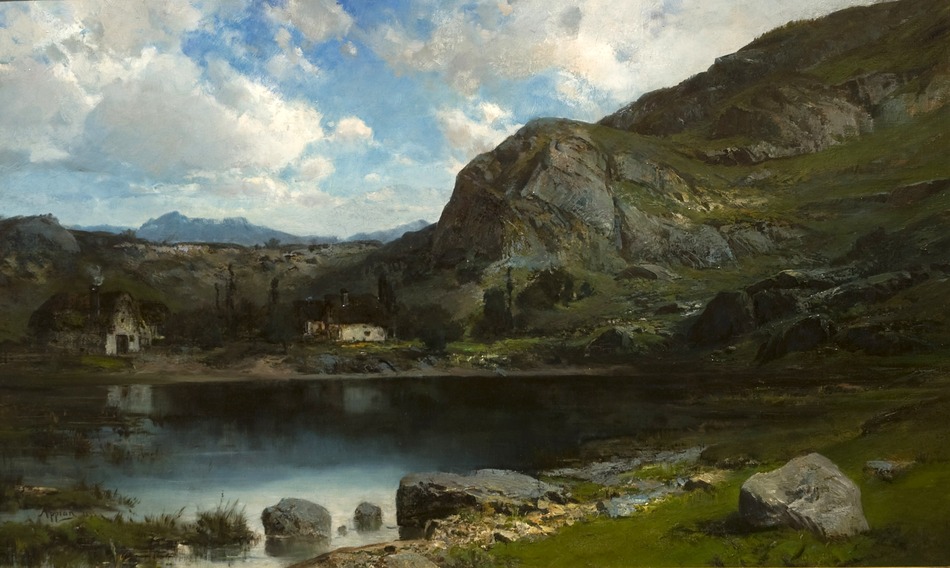 Adolphe Appian
French, 1818 - 1898
Environs de Viriuex (Ain)
1895
Oil on canvas
23 1/2 x 39 5/8 inches (59.69 x 100.65 centimeters)
Framed: 31 x 46 1/2 inches (78.74 x 118.11 centimeters)
Signed and dated lower left: Appian 1895
SOLD
Possibly "Environs de Viriuex (Ain)," exhibited at Salon of Lyon, 1895 (acquired by Ch. Vouga.)
Adolphe Appian (French, 1818 - 1898)
Appian was among the group of landscapists that formed around Corot and Daubigny during the 1850s and carried their tradition of plein air painting to the end of the 19th century. Appian was born in Lyon, where he began his artistic studies at the age of 15 at the Ecole des Beaux-Arts de Lyon. He began his career creating silk designs?Lyon was, of course, the center of silk production in France?and he opened his own silk design practice in 1842.
It was around this time that Appian met Auguste Ravier, who was also from Lyon, and by 1848 the two landscapists were painting together. By 1852, the pair was painting in the company of Corot and Daubigny at Barbizon. This period presented a significant turning point in Appian?s career: from 1853 Appian exhibited regularly at the Lyon and Paris Salons and began to live solely from his art. Appian returned to the forest of Fontainebleau several times over the next decade in 1854, 1855, 1856 and he painted in the company of Daubigny in 1857 at Marlotte and in 1859 at Optevoz. Appian and Daubigny maintained a close relationship and from 1859 Appian identified himself as a student of Daubigny and Corot at the annual Salon.
Although his time in Fontainebleau proved seminal in his career, Appian is best known for his images depicting the regions around his of his native Lyon?Ain, Auvergne, Savoy and the Pyrenees. He returned to this area in 1862 and from the 1870s painted this southern region with occasional trips to paint along the Mediterranean coast at Collioure, the Martigues, Villefranche, Monaco and Menton.
Like his contemporary Henri Harpignies (1819-1916), Appian was interested in a broad range of media, and was as active producing finished works in charcoal and etching as he was in painting. He joined the Société des Aquafortistes in 1865, and his etchings and works in charcoal are as prevalent in museum collections as are his paintings.
Selected Museum Collections:
Musée du Louvre, Paris; Musée Calvet, Avignon; Brooklyn Museum; Musée de Brou, Bourg-en-Bresse; Dahesh Museum of Art, NY; Harvard Art Museums, Cambridge, MA; Musée des Beaux-Arts de Chambéry; Art Institute of Chicago; Cleveland Museum of Art; Dallas Museum of Art; Préfecture de l?Isère, Grenoble; Indianapolis Art Museum; Musée des Beaux-Arts de Lyon; Musée des Ursulines, Mâcon; Currier Museum of Art, Manchester, NH; Musée Cantini, Marseilles; Minneapolis Institute of Art; Musée Fabre, Montpellier; Musée des Beaux-Arts de Nantes; Pomona College Museum of Art, Claremont, CA; Dahesh Museum of Art, New York; Musée Crozatier, Le Puy-en-Velay; Musée des Beaux-Arts de Rouen; Musée Greuze, Tournus; Victoria Art Gallery, Bath, UK; Wichita Art Museum
Bibliography:
Adolphe Appian (1818-1898), peintre et graveur de l?ecole Lyonnaise. Ex. Cat., Bourg-en-Bresse, Musee de Brou, 1997.
Adolphe Appian: etchings and lithographs from the G. and A. Burton collection. Ex. Cat., Cambridge: Fitzwilliam Museum, 1994.
Dickinson Michaux, Lisa with Gabriel P. Weisberg, Expanding the Boundaries: Selected drawings from the Yvonne and Gabriel P. Weisberg Collection. Minneapolis, Minneapolis Institute of Arts, 2008.
Harambourg, Lydia, Dictionnaire des peintres paysagistes français au XIXe siècle, Neuchâtel, Editions Ides et Calendes, 1985.
News on the artist
July 27, 2011 @ 2:40 PM UTC

Now in Glasgow:

#Millet #Barbizon

Pastel of "The Angelus" Allocated to Kelvingrove Art Gallery and Museum: http://t.co/soF2LMA via

@AddThis

August 1, 2011 @ 3:35 PM UTC

October 6, 2011 @ 3:00 PM UTC

October 20, 2011 @ 9:17 PM UTC

November 1, 2011 @ 3:38 PM UTC

November 3, 2011 @ 4:34 PM UTC

December 12, 2011 @ 10:53 PM UTC

When you visit the new 19th-century galleries

@ngadc

don't miss this

#Rousseau

http://t.co/Qgr6EWp5 and http://t.co/awPyBEDl

#Barbizon

January 30, 2012 @ 10:42 PM UTC

February 7, 2012 @ 10:14 PM UTC

March 16, 2012 @ 7:56 PM UTC

April 10, 2012 @ 2:50 PM UTC

April 10, 2012 @ 3:09 PM UTC

April 13, 2012 @ 9:22 PM UTC

April 13, 2012 @ 9:23 PM UTC

May 30, 2012 @ 7:40 PM UTC

July 2, 2012 @ 4:03 PM UTC

July 16, 2012 @ 8:01 PM UTC

August 29, 2012 @ 10:26 PM UTC

#Courbet

's Majestic Oak Painting Returns to Its Roots After Hometown Museum's $5-Million Purchase http://t.co/y2JTiZXo

#Barbizon #Realism

September 7, 2012 @ 3:07 PM UTC

November 19, 2012 @ 10:19 PM UTC

January 28, 2013 @ 11:44 PM UTC

February 14, 2013 @ 4:00 PM UTC

March 12, 2013 @ 3:27 PM UTC

March 21, 2013 @ 2:55 PM UTC

March 22, 2013 @ 9:14 PM UTC

Happy belated bday Theodore

#Rousseau

http://t.co/7UrhiBahm6 and Jules

#Dupre

http://t.co/ATFe97j3cs. Apr 15 -a great day for

#Barbizon

art

April 16, 2013 @ 4:05 PM UTC

June 10, 2013 @ 3:41 PM UTC

Now at Schiller & Bodo : MASTERWORKS OF THE BARBIZON SCHOOL, on view through November 27 http://t.co/pgDhaUAscc

#Barbizon #exhibitions

November 5, 2013 @ 4:10 PM UTC

April 15, 2014 @ 5:33 PM UTC

And Happy Birthday Jules

#Dupre

- April 15, 1811 - a great day for

#Barbizon

School painters! http://t.co/62PKvhJpN8

April 15, 2014 @ 7:03 PM UTC

May 1, 2014 @ 3:35 PM UTC

Here is our current

#exhibition

catalogue: A Romantic Vision, The

#Barbizon

School and its Contemporaries http://t.co/iemkJ4fmdG

May 5, 2015 @ 5:16 PM UTC

August 11, 2015 @ 2:52 PM UTC

March 10, 2016 @ 5:50 PM UTC

March 15, 2016 @ 3:01 PM UTC

April 15, 2016 @ 7:09 PM UTC

June 17, 2016 @ 8:23 PM UTC

July 15, 2016 @ 7:30 PM UTC

July 13, 2017 @ 9:49 PM UTC

October 4, 2018 @ 5:43 PM UTC